Have you been wondering what happens during an acne facial? If you've never had an acne treatment facial done, they may seem kind of mysterious (even a little intimidating).
Although they're not a necessary part of your acne treatment routines, having regular facials done can help clear out blackheads and blocked pores. Even better, they can also complement other acne medications that you may be taking.
Each esthetician has her own style, but acne treatment facials generally follow the same basic procedure. Here's what you can expect during your first acne treatment facial.
What is an acne facial?
Also known by "deep cleansing facial," "decongesting facial facial," or "deep cleaning facial," this type of facial treatment profoundly purifies the skin and will usually include multiple rounds of extractions to unclog the pores. While a good acne facial can help clear up acne, bad cases of acne may need additional treatment options. Most people think an acne facial treatment is just for that, treating acne. However, these facial treatments will usually add and omit certain steps during the process in order to treat and prevent blemishes.
Your basic acne facials are going to use products that have specific ingredients to target acne bacteria and break up excess dirt and oil in the pores. Those ingredients likely include salicylic acid, sulfur, benzoyl peroxide, and tea tree oil.
Every case of acne is unique, so different acne facial treatment options are available to try. For example, an esthetician may consider using LED light therapy, this can kill acne-producing bacteria. Different colored LED lights can produce different results. A blue LED light can be used to control sebum regulation and soothe the skin. A green LED light may be used to reduce hyperpigmentation and calming redness. They might also introduce a high-frequency device to target active blemishes.
In other cases, your esthetician may decide to go light on the massage or skip it all together, this is especially true if you have breakouts that are active. This step might be avoided for those who are dealing with severe breakouts, this is because it may provide too much stimulation. In such cases, this can give your esthetician more time to focus on extractions.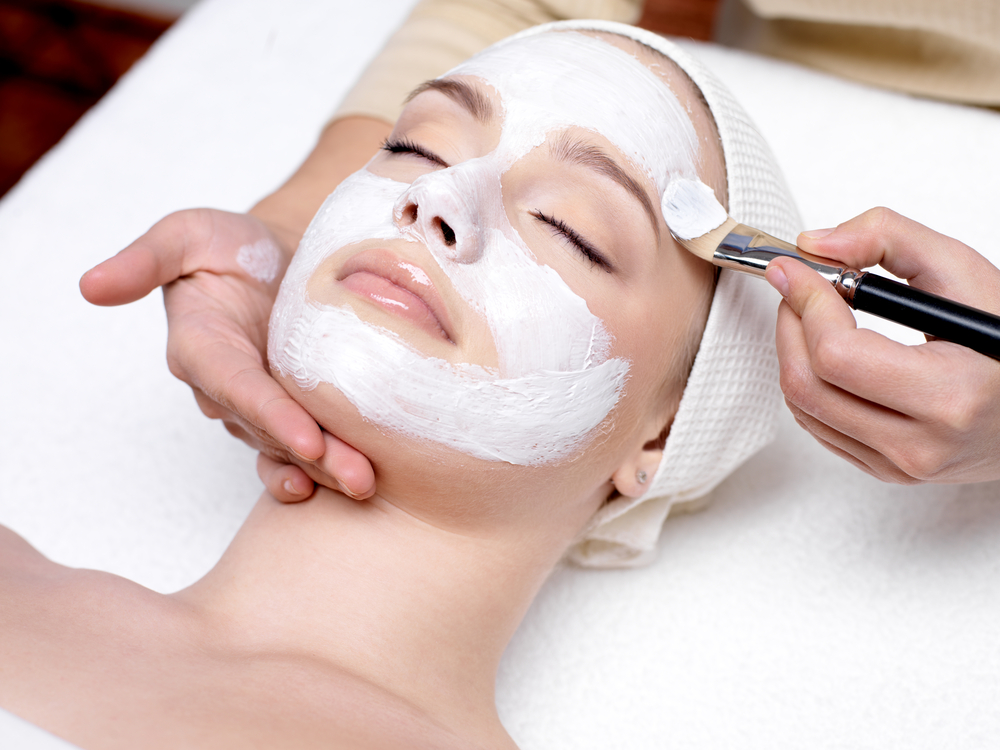 What are the benefits of an acne facial?
Nearly every type of facial is going to provide a deeper clean to your face, but acne facials are unique in the fact that they offer more targeted steps to address stubborn spots. With that in mind, let's take a look at how acne facials can be beneficial.
Hydrating the skin: Anytime that you're treating acne, the last thing you want to do is overwhelm the skin with peels and extractions, as the skin might overproduce oil to compensate, leading to even more breakouts. "The goal is to remove the excess surface sebum, dead skin cells, and buildup in pores while eliminating bacteria without inducing a sebum response," says board-certified dermatologist Ava Shamban, M.D., founder of SKINFIVE. So your esthetician will likely throw some hydration into the mix, like a cooling mask to soothe inflammation.
Treatment for active blemishes: Extractions are great for treating comedonal acne (which includes blackheads and whiteheads), this is because esthetician will manually squeeze out all the excess gunk from the pores. If you have inflamed acne, you may want to consider using high-frequency devices. High-frequency machines or wands are used to treat and prevent problematic acne, decrease the appearance of pore size, and kill bacteria.
Prevents future breakouts: Acne facials will generally include exfoliating cleansers or peels, these will usually contain ingredients like salicylic acid or glycolic acid. These ingredients are used to speed up cell turnover, unclog pores, and help you contain future breakouts from forming.
Who should get one?
If you're someone that is dealing with active breakouts or congested skin, you may benefit from an acne facial. Women and men that struggle with mild to moderate acne (blackheads, whiteheads, clogged pores) would make for a good candidate.
If you have severe, highly inflammatory acne (this could include cystic or nodular bumps), you may want to consult with a dermatologist before you book a facial. Your dermatologist will review your unique scenario and come up with a plan of attack. You can still seek out an esthetician if you wish.
How do acne facials work?
It's important to note, every esthetician has their own styles and processes. You're going to find out that not all acne facials follow the same exact form. With that being said, here's what you can expect during your facial:
Cleanse: This is your typical first step with any facial. You always want to start with a clean face. During an acne facial, an esthetician is going to cleanse your skin to remove all traces of buildup. It's possible you may need 1-2 additional cleanses.
Exfoliate: In order to prepare the skin for extractions, the esthetician will likely exfoliate your skin, this may include a vibrating scrubber to manually remove congestion, gentle peel, or a tea-tree-oil-infused toner. The goal here is to penetrate the pores to break up built-up oil, this will make your extractions easier.
Extract: With your cleanse and exfoliation done, it's now time for your extractions. The esthetician will likely use one of two strategies here, either by using the finger method or a they may use a comedone extractor tool to gently remove blackheads and whiteheads. If a specific area looks too deep or angry to extract, don't be surprised if it's skipped.
Treat: High-frequency devices are used to eliminate leftover bacteria on the surface, it can also decrease inflammation of painful cystic acne. During this stage, your esthetician may also introduce LED light therapy to calm the skin and prevent future breakouts from forming.
Moisturize & calm: It's important that acne-prone skin is properly hydrated. Hyaluronic serums used at the end of an acne facial help to keep the skin hydrated and protected. Algae-infused mask may be added to calm the skin and give your face much needed nutrients. The facial will then end with a moisturizer and SPF, leaving your skin feeling clean and refreshed.
What are the best facials for acne?
Now that you more about acne facials, which facials are going to be best for acne? While there is no one-cure-fits-all when it comes to acne, facials are known for calming the effects and conditions that come with it. Below are a few different facials that you could consider to help treat your problems with acne. However, a professional esthetician will know what your specific skin type needs after an individualized consultation.
(1) Classic Facial
Your typical classic facial comes with a deep cleansing, extractions of whiteheads and blackheads, a head and neck massage, and relaxation. The goal after a classic facial is to wake up looking and feeling rested and refreshed. There's no question about it, a classic facial can help with acne.
(2) LED Facial
As we discussed earlier, LED lights are a common treatment for acne. LED facials use a combination of white, red, and blue infrared light that can work on your tone, collagen, and skin bacteria.. The goal of LED light therapy is meant to fight against active acne and is ideal for anyone that may have sensitive skin.
(3) Microdermabrasion Facial
This non-invasive cosmetic treatment is one of the fastest ways to get a healthy glow, involving a handheld device used to buff away the top layers of dead skin. Depressed scars and discoloration can improve with this facial. The goal after a microdermabrasion is brighter, smoother, more evenly toned skin.
(4) Brightening Facial
This acne facial treatment can include a variety of different things, such as different acid peels, masks, and serums. Brightening facials target dark marks, these are also commonly called hyperpigmentation. The goal of a brightening facial is to reduce the discoloration left over from previous acne problems.
(5) Decongesting Facial
This facial treatment is essentially like professional pore-digging to remove minor breakouts. The goal of a decongesting facial is to clear blocked pores and to help dissolve the outer layers of skin for resurfacing, which can also help keep your pores clean.
Book Your Acne Facial With Soothe
Soothe is now offering acne facials in select locations. Book your acne facial here.