Massage therapy is practiced in many distinct ways throughout the world. If you've had a massage before, you've most likely already experienced one or more techniques used in sports massage.
Here at Soothe, this is another featured massage we offer. We love offering sports massage for our Soothe clients because it includes two of our featured massages; Swedish massage and Deep Tissue massage. The sports massage can serve a handful of different purposes, from relaxing the entire body and improving mobility to pain relief caused by injuries. Talk to a massage therapist today about incorporating elements of the sports massage into your next session.
What Is Sports Massage?
Sports massage is one of the most popular and frequently utilized massage types in the world. If you're ready for your first massage, then sports massage can be a great place to start. The sports massage treatment combines a variety of different massages into a single session to relieve pain, ease tension, and promote healing. In some scenarios, a full body massage may be appropriate for this massage type.
Sports massages are very beneficial for athletes, bodybuilders, and anyone that lives an active lifestyle. For example, if you're an athlete, sports massages are recommended when you're going through training. Getting a regular massage can help you prevent injury and recover faster. Massage treatment is a long-term solution for muscular performance, injury rehabilitation, and prevention.
If you're having pain in your neck or back, a sports massage may be a great way to begin reviving your body and mind. Since this massage is well known for relieving pain and improving injury, sports massage therapy can be relieving.
Sports Massage Techniques
Massage therapists may use a variety of methods to give a sports massage, what methods they choose will depend on your unique situation. Below, you'll find the most common sports massage techniques and learn how each technique helps to give you the end result you want.
Effleurage – These are simple strokes done with the palm of the hands in a push away from the heart to promote blood flow. Effleurage is used to start your massage, it helps the muscles warm up. It's also used at the end of your massage to soothe your muscles.
Petrissage – Kneading movements are common in this method. Petrissage helps in muscle recovery. The massage therapist will usually compress your soft tissues in a rhythmic fashion. The most common ways of performing petrissage include kneading, wringing, rolling, and lifting. This will help the muscles stretch and loosen.
Tapotement – For stimulation, tapping and cupping muscles is used. This is typically done in pre-event massages. Drumming or tapping is what tapotement refers to. The massage therapist will use rhythmic tapping to stimulate blood flow across the body.
Friction – Sports massages often use friction movements, it's an effective technique for repairing injuries because it targets the muscle tissues. Effleurage should be used before a friction massage to warm up the muscles. This technique involves rubbing on the massage area using the thumbs or fingers. The massage therapist may apply pressure in a circular area or linear, this rubbing can soften and realign your muscles. This technique is great for those of you that may have joint pain or struggle to move your joints.
Vibration – The fast vibrations relax and soothe the muscles. This technique involves rhythmic shaking of the area being massaged. This will loosen up your body and help your muscles relax.
Sports massage therapists utilize a variety of techniques in a session, depending on the demands and condition of the patient. Make sure you communicate with your therapist and let them know exactly how you feel. This will help them choose the best techniques for you.
What Happens During A Sports Massage?
The first thing to understand is that you can get one at any time, but they can be especially useful before or after you go through an active event with your body, such as a 5-mile run, sports game, MMA match, weight lifting, etc. While deep-tissue massage and sports massage techniques appear similar, the two have different focuses, so knowing which one can help you the most is important.
For example, if you were offered a sports massage vs. a deep tissue massage, the sports massage would probably take your physical activities into account and the therapist would likely try to tailor the massage treatment to fit both the time and kind of activities you're doing whereas a deep-tissue massage would be more about pressure and your overall lifestyle.
Each massage therapist has their own preferred techniques for providing a massage. However, there are several standard procedures that you may expect during a sports massage. We'll cover those now.
Firstly, the massage therapist will begin by lubricating your skin with massage oil or lotion to make it smoother and more pleasant. If you don't want lotion, just let them know. Your practitioner will use various massage strokes and techniques depending on why you're getting a sports massage.
These movements help your muscle tissues warm-up, this helps to release tension and also breaks up muscle "knots," these are also known as adhesions.
Soothe always encourages excellent client-therapist communication in order to obtain the greatest massage treatment. Before the treatment, the therapist will most likely inquire about any injuries or other issues he or she should be aware of. Let the massage therapist know how you're feeling. You should tell them exactly what is hurting, painful, or tense so they can adjust their technique accordingly. If you have allergies or are pregnant, make sure to let them know.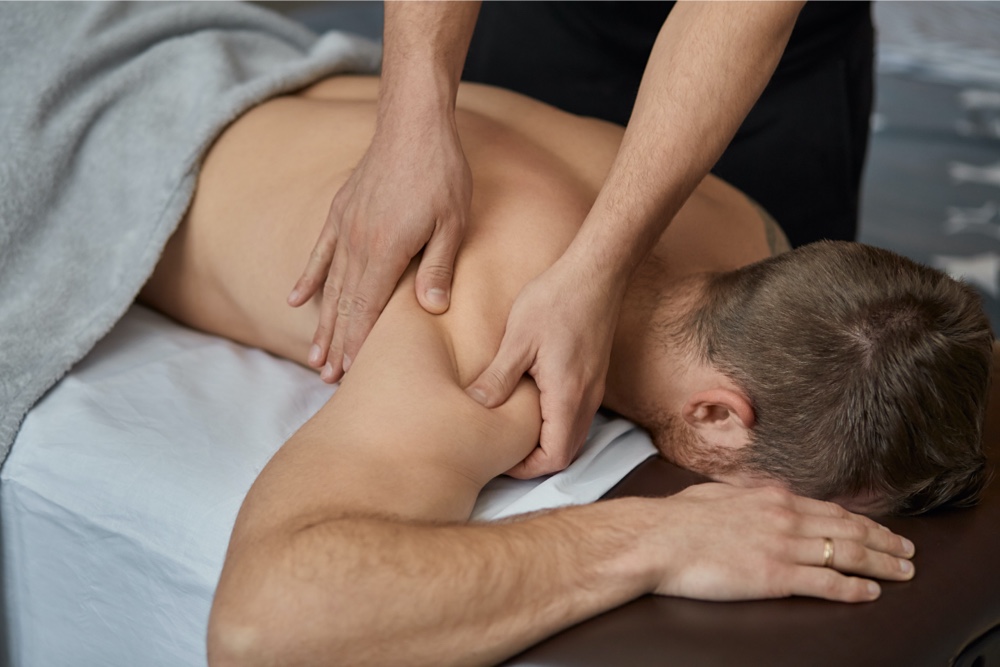 You should also tell the massage therapist your preference for pressure, which may be light, moderate, or firm. The therapist will likely ask a series of questions to ensure you have the best experience possible. That's why communication is so important, Soothe wants to make sure to meet all of your expectations. If you let your massage therapist know exactly what you want, he or she can make sure they deliver on that promise.
Origins Of The Sports Massage
Massage, which originated in Greece and Rome and has a long history (Cenacle Treatment Centre), is one of the world's oldest healing techniques. Galen (AD 30-200), a renowned Roman physician, "recommended massage for gladiators both before and after training." This is one of the first known instances of sports massage.
The modern history of Sports Massage can be traced back to the Paris Olympic Games in 1924 (Crist Chiropractic & Wellness, 2011). Finland's Paavo Nurmi won five gold medals in the Olympic track event, receiving much credit for his victory from his regular personal massage therapist. Here in the United States, many people credit Jack Meagher to be the one that introduced sports massage to the country.
Massage practitioners are increasingly turning to sports massage for relief from various pains and strains (Benjamin & Tappan, 2004, p. 30).
Health Benefits
The physiological and psychological benefits of massage therapy are enormous. Massage is used to treat a variety of ailments, including muscular imbalances, soft tissue damage, fluid buildup, high heart rate, blood pressure, restricted range of motion, pain, tiredness, anxiety, and injury prevention. It may also help with promoting blood flow and warming up muscles. Research studies have shown that subjects felt less fatigued and felt like they recovered faster after sports massage. Decreased anxiety, improved mood, better sleep, and enhanced feelings of well-being were also noted in the study.
This massage can also ease tension and anxiety, allowing the body to relax and recover from the strain of sports activity. It also aids in the removal of toxins and waste products during post-event periods by "calming the nervous system". This massage also helps athletes get back into their workouts faster by reducing recovery time.
During high-intensity exercise, massage therapy is shown to relax the body and release and reduce tension in muscles. It can also help to relax the body by relaxing the mind.
Personal Benefits
A sports massage is excellent for relieving pain and strains, but it may also aid in the relief of everyday stress. It's no secret that stress can harm your health. Many people are going to stress over work, relationships, children, parents, taxes, politics, inflation, and everything else. The more we stress, the more muscles become tense, which may be leading to some of the feelings you currently have.
The pressure utilized in sports massage therapy can assist to relax the muscles and relieve any strain that has built up. Some people have said that skin contact relaxes them and aids in the clearance of their thoughts. If you like firm pressure during a massage, consider booking a deep tissue session.
Another advantage we'd like to mention is sleeping. Sleep is extremely crucial to one's health; it helps the body and mind rest. Getting adequate good quality sleep is beneficial to one's overall well-being.
Since a sports massage can use Swedish massage techniques, it can help to relax your body. This relaxation can help promote better sleep, and when performed in the evening, it may also help you fall asleep faster.
How to Book a Sports Massage Near You
If you're interested in booking a sports massage, Soothe makes it easy to find a certified massage therapist in your area. Visit our booking page, and we'll bring the massage to you! If you have questions about this massage, you can check out our content library. If you'd rather talk to one of our massage experts, we'd be glad to assist you. Click here to get started.