Mental wellness, let's talk about it. Panic, fear, and worry are common feelings associated with anxiety that can strike at any time and range from mild to debilitating. Even if you're only experiencing minor anxiety, these anxious feelings can be getting in the way of your overall wellness. Whether you're prone to anxiety attacks or not, it's important to know how to take care of yourself when the intense emotional stress starts to take a toll, which can appear suddenly, or build slowly over time.
While booking an at-home massage is a great way to help manage your anxiety, we know our therapists can't be there every time you start to feel anxious. At Soothe, it's our goal to help you relax and feel your best, so we've outlined some simple steps that can help you cope with any anxiety at any time.

Mental Wellness: Have to stay connected.
Loneliness can commonly lead to heightened anxiety. If you feel stuck and alone because you're adhering to social distancing or stay-at-home orders, there are still plenty of ways to be social with your friends and family. Checking in via FaceTime, group chats, and even good old-fashioned phone calls with loved ones can help. Schedule family check-ins, have a virtual game night, or just vent to each other. Technology is a wonderful thing!
Self-care is key.
When tough situations become overwhelming, step away from the cycle of bad news and anxiety-inducing interactions that are causing your anxiety. Instead, focus on taking care of yourself in fun, relaxing ways, too. A self-care routine is a great way to cope with anxiety, as it reminds you to love yourself without trying to change who you are. Maybe try starting a daily meditation or yoga nidra practice, or treat yourself to an extra-long bath or fun face mask. Do something that makes you feel more relaxed, and do it as often as you need to!
Make a schedule.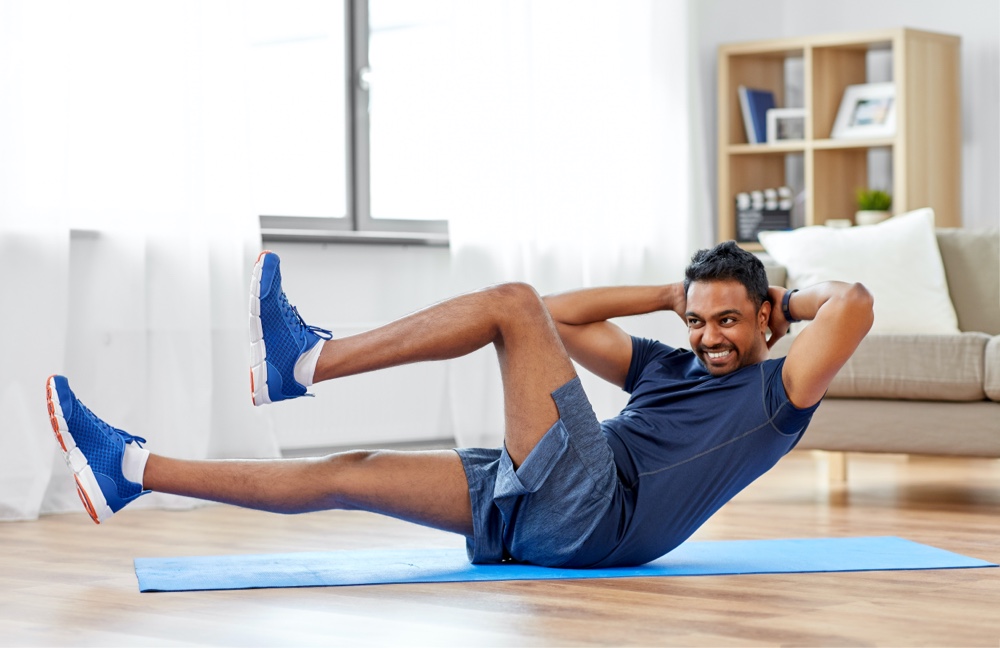 It can be tempting to just lounge on the couch and binge an entire Netflix series when you're feeling down. But psychology has shown that we are less likely to succumb to anxious feelings if we have tasks or a daily routine to keep our minds busy. It can be as simple as a daily to-do list: make a healthy breakfast, work out in the living room, send that email you've been putting off, finally clean out that overflowing closet. Crossing items off your to-do's will help you feel a sense of accomplishment, and distract your mind from anxious thoughts!
Your mental health should be a priority
Anxiety has been shown to contribute to hypochondria – the thought that we are sick when we are not. Now more than ever, it's important to be aware of your physical wellbeing as it relates to your mental state. Taking care of yourself in small, simple ways can make a big impact. Make sure you're eating well, drinking plenty of fluids, and maybe even catching up on your sleep — it can make all the difference in helping you cope with anxiety.
Seek additional help.
It's normal to feel a little bit anxious every once in a while. But if intense distress impacts your daily life for several days or weeks, you should consider talking to a therapist, counselor, or doctor. If you or someone you know is struggling with mental health or maintaining positive thoughts, you can also contact the SAMHSA helpline at 1-800-985-5990, and the National Suicide Prevention Lifeline at 1-800-273-8255.
Massage and Coping with Anxiety
Massage is a great tool for managing anxiety! Massage helps you relax and relieves tension associated with anxiety. In addition, therapeutic massage lowers cortisol levels, the hormone our bodies produce in response to stress. Booking a 60-minute massage at home is a great way to release your stress and anxiety, and regular massage can be a powerful tool in managing ongoing symptoms.